Chairperson
Dr. Lilly George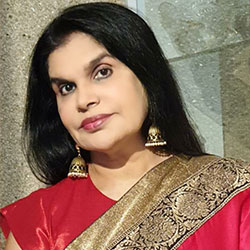 "FOUNDER AND CHAIRPERSON, SHALOM GROUP OF SCHOOLS"
Dr. Lilly George was born with innate leadership skills and humanitarian fervour. Her zeal to help fellow human beings was nurtured by the encouraging atmosphere that her family provided. As she graduated from a school-kid to a gentle but strong, soft but stern lady with undaunted courage of her convictions, Dr. Lilly George has successfully created a niche for her in the fields of education, community development and social work.
She is an epitome of integrity, morality and righteousness. She is a visionary and a dreamer, who provides an inspiring picture of a shared future that solves many problems and provides hope - Hope to people at large particularly the ones in need. She leads on the path of service following the very light shown by God Almighty. A humanitarian armed by her benevolent compassion and enormous empathy, she can be second to none. Her altruistic service, commendable endeavors, and indelible contribution towards the community are laudable and exemplary.
She is dynamic, enthusiastic, simple and yet so compelling that she captures hearts wherever she goes. Her vision, initiative, perseverance and resilience make her one of the central pillars among the builders of the society. She believes that the society can be built only when the students are made proficient in their subjects, are inculcated with the fundamentals of values and in addition can be provided with a vision for life.
A committed educationalist Dr. Lilly George is the Founder-Chairperson and far- sighted architect of the Shalom Hills Group of Schools, which are among the top elite schools of Gurugram.
She is an embodiment of love, grace, strength, passion and wisdom. She is an institution-builder and a team-builder, who always wanted to build a puissant, sovereign and self-reliant community of educationists serving and contributing in nation building. She devised every stratagem in the book to beat the embargoes and sanction regimes in the field of education. Her independent mind, charismatic personality and vivacious persona resonate in the hearts of her associates, her teachers, her children, who affectionately call her, their Mother Darling. Her overwhelming love for children is known to all. In her own words, children are her power, her strength, and her love. Her entire life has been devoted to the welfare of children.
Children are her world and she leaves no stone unturned in creating a magical world in reality for those who walks into her life. A pioneering philanthropist, solely on the strength of hard work and perseverance. She believes that only a humble heart that can bring a change and one should be rich by the hand that gives. She is a person of deep faith and goodwill. She is the reason for happiness in many lives irrespective of caste, creed, religion and region. With her hallmark of lasting love and a generous heart she has earned encomiums such as Angel of Love, Mother Darling etc.
She always believed that success and failure will be there in life, and one has to defeat the fear. And that is what she does so fastidiously and in all efficacy and humility.
Dr. Lilly George was associated with Delhi YWCA (the largest women's organization in the world) for a long time and her tenure as its President has seen the YWCA espouse path-breaking and innovative work in the fields of vocational training, education, skill development projects, AIDS awareness programs, and social rural development projects.
As Patron of Delhi Malayalee Association, she worked with passion for the community in various ways. As Principal Advisor (Projects) of the Cultural and Educational Centre, she took the lead in establishing the Centre for DMA in RK Puram, New Delhi.
She is associated with, and has contributed to many socio-cultural-educational organizations.
She is a passionate nature lover, who strongly believes that a green and clean environment can keep our planet safe. She plants and nurtures trees, ensures that they are well looked after, and even communicates with them in her unique style.
A basic thinker, a Lady of Substance, and a visionary in action, Dr. Lilly George has always been in the forefront of various initiatives that extended relief and succour to the disadvantaged. Her characteristic is such that her heart goes out to any person in distress. She has undertaken a number of benevolent activities that benefited many poor and downtrodden people.
In recognition of her selfless services to the society, particularly to the poor and less privileged, she was honoured with a number of awards, such as:
Cambridge University's Students Union Manual - Guide to Excellence published by St. James Publications, London, featured her as a great 'Humanitarian' for zealously upholding moral and spiritual values in the field of education and service to the community.
Great Daughter of the Soil award was presented by H.E. Sir Anerood Jugnnuth, President of the Republic of Mauritius in 2010.
The Madras Telugu Academy honored her with Samaikya Bharath Swarna Puraskar, at a function held in Chennai in 2007.
Acknowledging her service to the society, in particular to the poor and the downtrodden, PECOBA-SAKHA honored her with the first Kalpana Chawla Excellence Award 2006 in February 2006.
Bharat Gaurav Life-Time Achievement Award presented by Sanskriti Yuva Sanstha at a function held in New York in 2012.
In recognition of her service to humanity, the Emmanuel Theological institution awarded her an honorary degree of Doctor of Humanity.
Mother Teresa Excellence Award for her service to the society, presented at a function held in Chennai in 2004.
Bhartiya Gaurav Award presented by IED&RA, in December 2004.
Queen Esther Award, presented by the Christian Leaders Council of India in 2005. (A special cash award of One Lakh Rupees was donated to Rag-Pickers Project of YWCA in Najafgarh, Delhi).
Mahila Shiromani Award on International Women's Day - 08 March 2005 - presented at a function held in Bangalore in 2005.
Meri Delhi Award was presented for her contribution in the field of social work, by the National News Service, Delhi, in August 2005.
Nayak Bharati Award was presented in December 2005 by NNS Delhi.
Rashtra Gaurav Samman was presented for promoting human values and for upholding the rights of women in 2008.
Spark of Excellence Award was presented by Dr Youhanon Mar Demetrios, Metropolitan of Diocese of Delhi in 2012.
Woman of Substance Award for her contribution in different fields by Ryan Foundation.
Best Edupreneur Award and Margdarshan award for best mentoring