Teaching Pedagogy
PRINCIPLES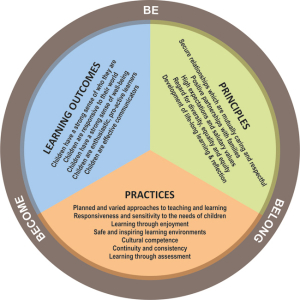 Secure relationships which are mutually caring and respectful
Our teaching faculties are attuned to student's thoughts and feelings and positively interact with the young students in their learning. Through a widening network of secure relationships, students develop confidence and feel respected and valued.
Our faculty prioritizes nurturing relationships by providing consistent emotional support to our students.
Positive partnerships with families
We believe that best learning outcomes are achieved when school and the families collaborate together.
School parent partnerships are based on the foundations of understanding each other's expectations and attitudes, and build on the strength of each other's knowledge.
High expectations and salutary values
Our teaching faculty is committed to equity and believes in all children's capacities to succeed, regardless of diverse circumstances and abilities.
We respond to barriers to students achieving educational success and make curriculum decisions to promote inclusion and equal participation.
Regard for diversity, equality and equity
Respecting diversity means within the curriculum valuing and reflecting the practices, values and beliefs of families.
We made our curriculum decisions upholding all students' rights to have their cultures, identities, abilities and strengths acknowledged and valued.
Commitment to the development of life-long learning and reflection
Commitment to the development of life-long learning and reflection
Reflective practice is a form of ongoing learning that involves engaging with questions of philosophy, ethics and practice. Its intention is to gather information and gain insights that support, inform and enrich decision-making about children's learning.
PRACTICES
Planned and varied approaches to teaching and learning
Responsiveness and sensitivity to the needs of children
Learning through enjoyment
Safe and inspiring learning environments
Cultural competence
Continuity and consistency
Learning through assessment
LEARNING OUTCOMES
Children have a strong sense of who they are
Children are responsive to their world
Children have a strong sense of well-being
Children are enthusiastic, pro-active learners
Continuity and consistency
Children are effective communicators