Vice Chairman
Mr. Dennis George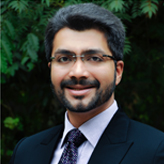 Mr. Dennis George "VICE CHAIRMAN, SHALOM GROUP OF SCHOOLS"
Mr. Dennis George, Vice Chairman of the Educational Trust that runs the Shalom Group of Schools, believes that Shalom Presidency School was structured to provide global curriculum to current generation of children to empower them for a global modern interface. He is a management consultant with specializations in the field of International Business (Aston University UK); Marketing & Human Resources. He also has hands on experience of studying in an IB School (Kodaikanal International School) which adopted the International Baccalaureate Diploma program in 1976.
His active involvement and monitoring of school functioning ensures that every participant in the process including management, teachers, students and parents work seamlessly together to bring out the best in all the Shalomite's. The school provides an enriched environment and supportive platform to all our students and faculty members to enable them to hone their skill sets to achieve their full potential.
In His Words
I firmly believe that education affects eternity and its purpose is neither transient nor short lived. The objective of education is to equip the young ones to educate themselves all their lives. Our school aspires to provide a global multi-disciplinary, collaborative, multicultural learning environment, which is constantly enhanced through academic research and pedagogical innovation in the school.